Conservative Renovation and Restoration Parolari Palace
fb.m. Srl

Interior architecture – Restoration and Renovation

Crema

2016
This project concerned a prestigious historic residence dated back to '700, with both an architectural and engineering intervention. The aim was to make independent a unit, after the splitting up of the whole building. Our challenge was to lighten the look of the building without compromise its importance and fashion
Architec's intent was to make all the spaces as neutral as possible. Starting from original dark colours of ceiling and the red (terracotta) of flooring, the new look turned into "total white" either for walls or for furnishings, with some alluminium details, in accordance with new flooring in eco-cement. Each space has been personalized by a different colour-theme, indroduced through some art or design articles: red for living area, blu for master bedroom, green for the secondary room. The main stream has been to brighten and lighten.
The living area spreads over a unique volume including entrance, sitting room and kitchen. These last two, merge in a unique open space, for not interrupting the continuum between ceiling and walls that keep old fregios and frescoes and the same original openings between one space and another.
Flooring is a mix of eco-cement and alluminium, placed in all the spaces. This choise was due to give an idea of a velvety and reflecting material, according to light intensity and the way it comes in from outside. Surface hides an underfloor, electical, heating system, powered by infrared pulses. Each area has an independent temperature regulation, even split by zones for greater areas, Everything is managed by domotic system.
For such situation, with considerable high volumes of air (5.50 metres height), this special heating system does not heat the whole room, but masses inside the room. The thermal comfort is produced in a widespread way and you don't feel the heat coming from below, as it happens with usual underfloor heating systems that could leave sometimes an unpleasant feeling.
Architecture
Gallery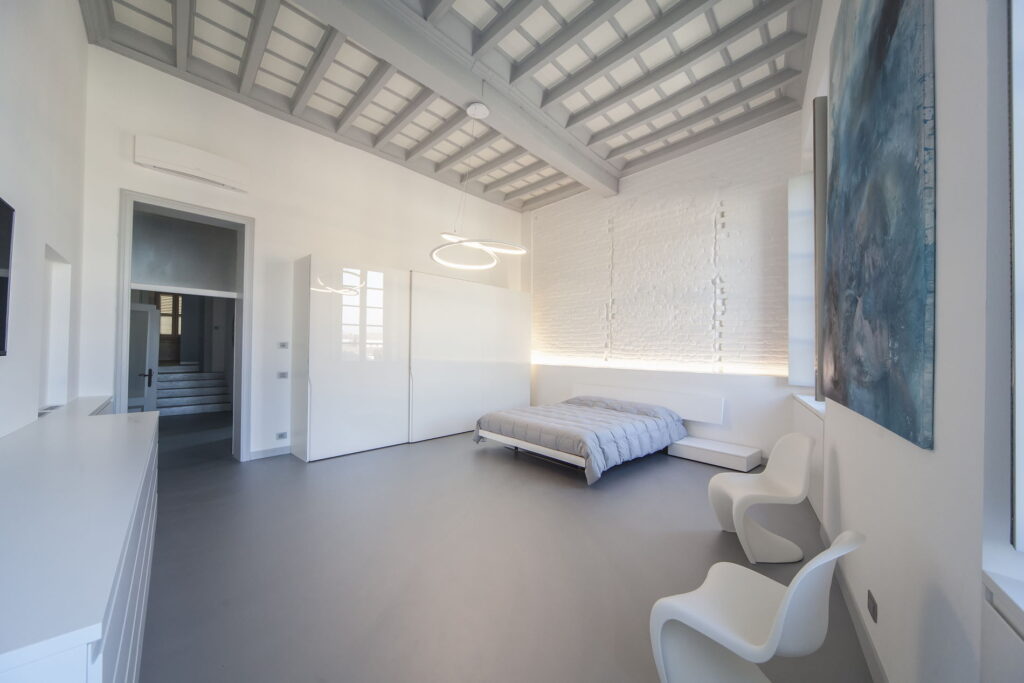 Entrust your project to our team of high qualified professionals